BOLESWANA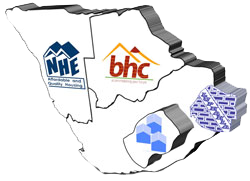 BOLESWANA is a housing association comprising the Botswana Housing Corporation (BHC) National Housing Enterprise (NHE) of Namibia, Lesotho Housing and Land Development Corporation (LHLDC) and the Swaziland National Housing Board (SNHB). The four member housing association was established with an objective to strengthen the friendship and cooperation between these institutions.
In September 22nd, 2010, the four member housing associations entered into a Memorandum of Agreement with main objective to set out a framework to facilitate the strengthening of collaboration and cooperation amongst these institutions. Every year the housing member associations take turns to host relationship building exercise as part of this agreement.
Other areas of mutual cooperation include operational and recreational and culture exchange which covers joint sporting activities, cultural activities, Corporate Social Responsibility and social networking for employees.
National Housing Enterprise - Namibia
Lesotho Housing and Land Development Corporation
Eswatini Housing Board